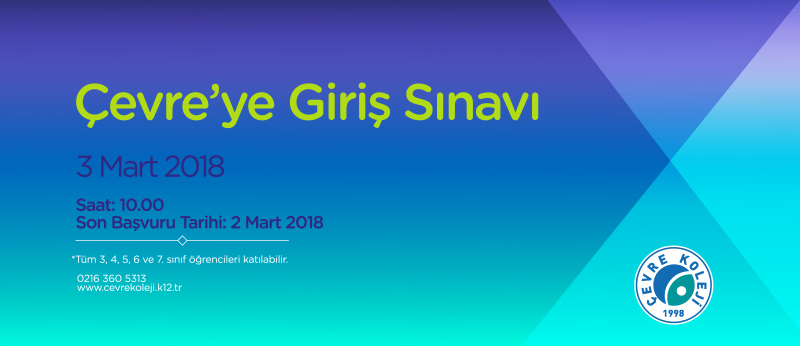 Çevre Entrance exam is an exam in order to gain admission to the school. It's not a scholarship exam. 3rd, 4th, 5th, 6th and 7th grade students may take the exam.
It will be held on March 3rd 2018, at 10:00, and the deadline to apply is March 2nd 2018, at 16:00.
The exam includes two parts: Academic (Turkish, Maths, Science, Social Studies) and English exams which will be held in two sessions.
The exam for 3rd grade students will last for one hour and include: Turkish 15 questions, mathematics 15 questions, social studies - science 15 questions. After the academic exam, which will take place from 10:00 to 11:00, there will be a 10 minute break, followed by the English exam.
For grades 4, 5, 6 and 7 the exam will include: Turkish 20 questions, Mathematics 20 questions, Science 20 questions, Social Studies 20 questions, and will last for 1 hour and 45 minutes. After the academic exam, which will take place from10:00 to 11:45, there will be a 30 minutes break. The English exam will be held from 12:15 till 13:05.
The results of the exam will be published on 4th March, 2018 on our website.