SPORTS CLUB » SPORTS CLUB | Çevre College – If the aim is to pursue excellence
Lifelong sports with Çevre College
The civilized man is one who can have a hobby through which he can relax and recharge his energy and enjoy social activities saying " I'm glad I'm in it and belong here".
None of us need to spend as much effort as a farmer in the busy routine of the modern life. However, no one can guarantee that technology won't collapse. There are such moments (such as natural disasters) that only your present experience, muscle power and motivation will force you to stay alive or bow to your fate.
Sports is a social activity and a way of living which makes us completely healthy individuals in both physical and psychological ways. You should spend some time for organized and planned physical activities in your lifetime. This will help you increase the quality of your life.
As Çevre Sports Club, we created a hygienic and enjoyable sports environment for you, our precious guests. We hope to share this enjoyable atmosphere with you…
Çevre Sports Club is open seven days a week, but it is closed on official holidays. The club is located in the Erenkoy campus of Çevre College. Membership is available for adults over 14. Apart from this, sports training courses are arranged for children in the weekends and on summer holidays. The sporting facilities within the campus are swimming pool, fitness center, sports hall, sauna and cafeteria. All sports club facilities are controlled regularly according to international standards.
Please contact 0216 360 53 13 ext. 153 or 133 for further information.
Indoor Swimming Pool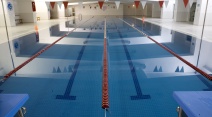 The semi-olympic swimming pool, 25 m long and 10 m wide, has four lanes. The deepest point of the pool is 2 m and the most shallow point is 1.40 m deep. In the pool, which has changing rooms and showers, floor and water heating, air-conditioning, disinfection and filtering systems are on for 24 hours. The pool water is regularly tested every month.
Fitness Center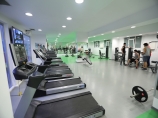 There is a fitness set, including cardio and weight groups, in the center that will help you work out and strengthen all your muscle groups. The floor is covered with flexible and hygienic PVC, and the walls are decorated with mirrors so that you can watch yourself while working out. Moreover, we have a sports and a health corner, and also a digital scale that you can regularly measure your weight with. You can either work on your own or ask for assistance to have a personal workout program.
Sauna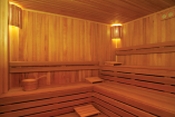 In our Finnish style dry sauna, you can take time off the stress and exhaustion of daily life. The sauna is heated with electric heater and moisturized with sauna oil with pine essence. The wooden seating places have two stairs which can also be adjusted to sit back or lay down.

It is free for the members :
In week days: 19:00- 21:00;
In the weekend: 17:30-19:00
Sports Hall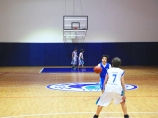 It's possible to play volleyball or basketball in our Olympic sized, air conditioned sports hall which also has private changing rooms. The floor is covered with bacteria free synthetic material which can easily be cleaned. The sports hall can be rented monthly or yearly. The rent for one hour is 220 TL.
Mondays: 18:30 / 19:30,
Tuesdays, Wednesdays, Thursdays, Fridays: 20:00 / 21:00
Saturdays and Sundays : 16:00 / 19:00