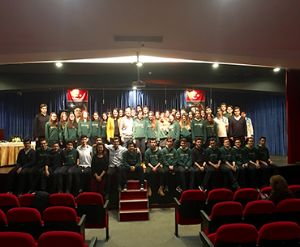 Cevre College hosted the most prominent university consultant, Sait Gürsoy, at the Conference Hall. He gave information to 12th graders and their parents about the necessary criteria that should be taken into consideration while choosing a university.
Gürsoy stressed out the importance of career planning and choosing the best option for them. He also reminded them that their happiness comes before other people's wishes regarding their choices about university. "You don't have to please the others. Pursue your own dreams," he added.
Nowadays being a university graduate is not enough for a prospective career. In order to reach your career goals, the qualities of the university should meet the requirements as well. Gürsoy stated that in terms of recruitment, Human Resources pay regard to how much equipped you are and your social development along with the CV. Our students, who enjoyed the seminar thoroughly, found Sait Gürsoy's advice effective in their university selections.