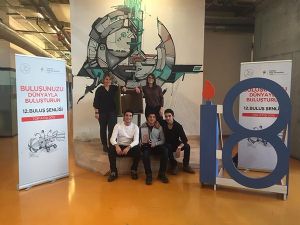 Cevre Team (Mert Kırmızıyeşil, Nur Hande Turan, Kaan Kamoğlu , Ata Akatay) consulted by our teachers Eylem Kocatürk and Niran Coşkun took the 3rd place in the 12th NASA JPL INVENTION CHALLENGE.

The Invention Challenge has been held by JPL-NASA engineers since 1998 in the United States every year and is open to the participation of secondary schools in Southern California. "Invention Challenge" contest is held only in Turkey apart from United States in the same format and content.

Every year, JPL-NASA engineers invites high school students and interested individuals to design their own machine and challenge them to solve the physical problems.

This year's challenge is to create a device that can propel three supplied volleyballs to three different targets in less than 60 seconds. Point values are awarded for each successfully completed target. The winner will be the team whose device accumulates the most points.

Cevre College won the 3rd place award among 30 schools in Turkey. We congratulate our teachers and students for their creative ideas and work.